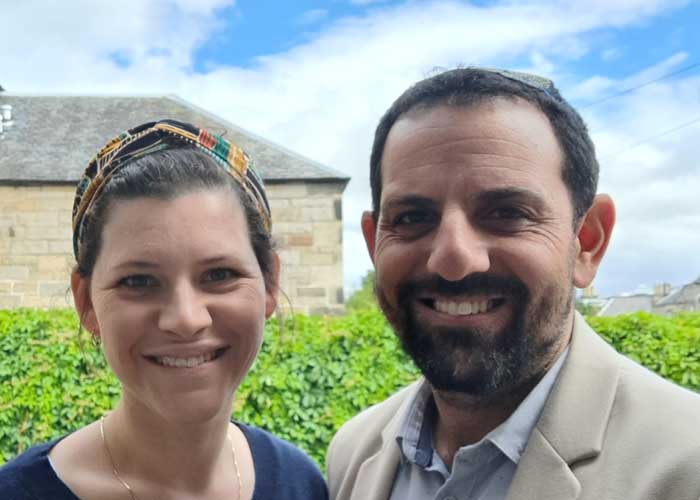 We believe that engaging in Jewish life on campus and being part of a vibrant community is truly empowering. Our passion lies in creating an inclusive and supportive environment that fosters positive experiences for all Jewish students.
Rabbi Eliran and Ayalah Shabo
Eliran and Ayalah joined Chaplaincy in August 2022, along with their two children, after two years in Athens where they worked with the Jewish community with a variety of audiences. Both were born and raised in Israel, where they also did their academic studies and Eliran studied for his rabbinical ordination. Both are proud to work with the future generation of the Jewish world, to support and assist during the busy university years.
Where are you from?
Eliran: Jerusalem, Israel
Ayalah: Efrat, Israel
Why chaplaincy?
We know how challenging these years can be and are dedicated to supporting students as they journey through uni. It is a privilege to be part of that journey for so many students, while supporting their needs and empowering them as they develop their individual Jewish identity.
How can you help students?
We provide a safe space for students to explore and express their Judaism. With good relationships, conversations and great food we manage to support a warm Jewish student community.
What prepared you for this role?
Eliran: Before studying for my Rabbinical Semicha I worked with youth and young adults in both formal and non-formal education institutions, including schools, community centres and universities. Later on, throughout our years in Athens, I became familiar with community work bringing people together. 
Ayalah: Working with the Jewish community in Athens provided an understanding of the way diverse communities can flourish, and of how to spot the different needs of the members. 
Personal interests?
Eliran: Geopolitics, action movies, reading and cooking.
Ayalah: Gardening, photography, and knitting.
What do you enjoy doing most with students?
Eliran: Discussing life and Torah over a glass of good Scottish whisky. Ayalah: Cooking and prepping for Chagim with students, and hearing about their lives and thoughts. 
What do you want students to take away from their Jewish experience at university?
Confidence in their ability to create a meaningful Jewish life for themselves, and a love for Jewish experience and community.
Where did you go to yeshiva / university?
Eliran: David Yellin Education college, The Hebrew University of Jerusalem and Yeshivat Machanaim, Migdal Oz, Israel.
Ayalah: David Yellin Education college, Shalem College Jerusalem, Midreshet Matan Jerusalem.