Rabbi Eli & Rivka
Magzimof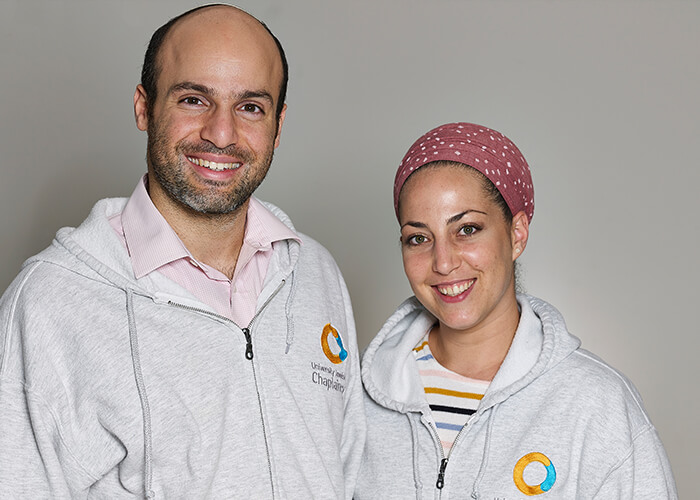 We want to be there for Jewish students to strengthen their Jewish Identity and empower Jewish endeavor on campus and beyond.


Rabbi Eli & Rivka Magzimof
Eli and Rivka both grew up in Israel and spent time during and after university working with young people in Israel and around Europe. In 2014, they joined chaplaincy and have been working with the vibrant Jewish student community in and around Leeds. They have three young kids — Shachar, Roni and Noam – two of whom were born during their time as chaplains.
Where are you from?
Eli: Jerusalem, Israel
Rivka: Karmey-Tzur, Israel
Why chaplaincy?
We want to help students strengthen their Jewish identity, empower them and the Jewish offerings on campus. We love welcoming new students, getting to know them and being their home away from home in uni.
How can you help students?
We support Jewish students on their journey during this critical point in their lives. We also help organise relevant and engaging Jewish events.
What do you enjoy doing most with students?
Eli: L'chaim & Learn, Tuesday football games with students
Rivka: Zumba, cooking, monthly Challah & Manicure group where we bake Challahs for Shabbat, enjoy each other's company and get our nails done for Shabbat
What do you want students to take away from their Jewish experience at uni?
Eli: Don't just join events, create them!
Rivka: To be proud of their Jewish identity and to get involved wherever they are
What prepared you for this role?
Eli: Work with Jewish communities in Germany and around Europe
Rivka: Youth work in Israel, Germany and Poland
Personal interests?
Eli: Technology, running, football, basketball, learning and expanding my horizons
Rivka: Photography and the arts, cooking and cake decorating, playing piano and guitar, reading
Where did you go to yeshiva / university?
Eli: Kerem b'Yavneh (KBY), Machon Lev University
Rivka: Emunah College