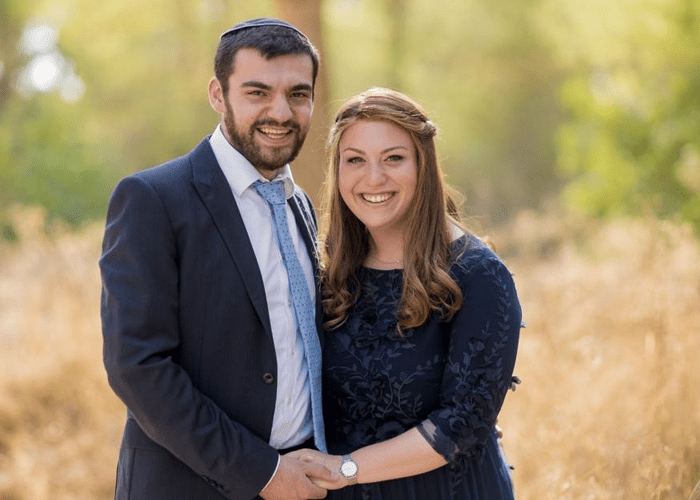 Rabbi Ben and Atira Baruch are excited to be taking up the position of Chaplains in Cambridge. Ben, originally from London, and Atira, who was born in Teaneck, NJ and made Aliyah with her family as a teenager, met in Jerusalem and are married with two young children, Shaya and Noa. Ben holds a BsC in Electro-Optical Engineering, is pursuing an MA in Jewish Studies, and has taught at Yeshivat Hakotel and Midreshet Amudim. Atira has a BA in Social Work and has practised as a social worker with several populations, most recently with Ultra-Orthodox women struggling with mental health.


Where are you from?
Ben: London
Atira: Teaneck NJ until I was 14, and then Beit Shemesh
Why chaplaincy?
We love the opportunity to help students at this exciting time in their lives to connect and engage with their own Jewish journeys.
How can you help students?
Provide a home away from home, a listening ear, exciting and engaging Jewish experiences and cute kids to play with! We also advocate strongly for Jewish students to be able to engage fully with their Judaism while at uni.
What do you enjoy doing most with students?
Atira: Going on Coffee dates and having a good schmooze.
Ben: Hosting Shabbat meals, connecting with the incredibly diverse students here, and learning.
What do you want students to take away from their Jewish experience at uni?
To feel empowered to build the Jewish communities that they want, to engage with Judaism that's relevant to them, to feel at home and comfortable with their Judaism.
.
What prepared you for this role?
Atira: My degree in social work and experience working in the field of mental health.
Ben: Being a madrich in BA, teaching and working in Yeshivot and Seminaries in Israel, and coming from London 😊
Personal interests?
Ben: Learning, reading, The Office (US), specialty coffee.
Atira: Baking, swimming and reading about psychology.
Where did you go to yeshiva / university?
Atira: I spent a year learning at Sha'alvim for Women and then did a degree in Social Work at Bar Ilan University.
Ben: I learned (and taught) for 10 years at Yeshivat Hakotel, and did a degree in Electro-Optical Engineering at JCT.