Rabbi Mordechai & Lea
Zeller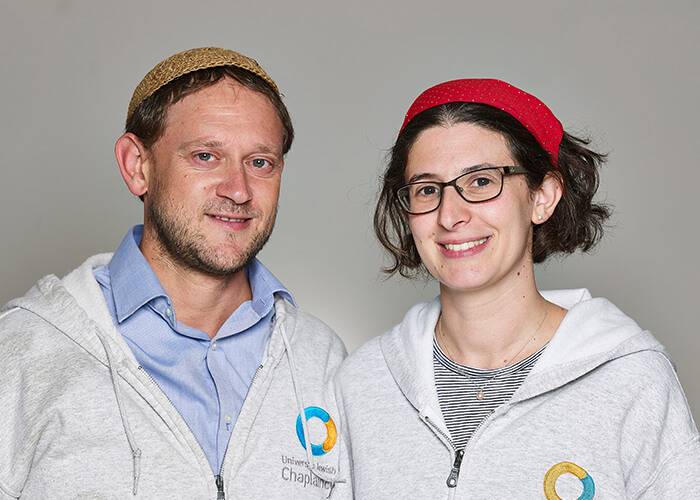 We want to help students to uncover their own unique, intimate Jewish identity on their journey through university. Helping them to better understand their place in the web of Jewish history.


Rabbi Mordechai & Lea Zeller
Mordechai and Lea joined chaplaincy in August 2016. They both grew up in the US and Israel and completed their university studies in Israel. Before taking this role, Mordechai worked as a clinical psychologist. Lea is currently a student herself and is pursuing a PhD in social anthropology. They live in Cambridge with their three young children.
Where did you grow up?
Mordechai:
US and Israel
Lea: US and Israel
What do you enjoy doing most with students?
Mordechai:
Weekly Zohar learning at our home over a bowl of cholent, discovering old Jewish manuscripts in college libraries
Lea: Gender and Judaism reading group, having a good conversation over hot chocolate (with almond milk)
What do you want students to take away from their Jewish experience at uni?
To discover, deepen and challenge their unique spiritual path.
What prepared you for this role?
Mordechai: Jewish Mysticism, Zohar and Chassidut teacher at Yeshivat Maale Gilboa. Work as a clinical psychologist at a mental health clinic
Lea: Gender and Jewish Philosophy teacher at Midreshet Ein Hanatsiv. I'm pursuing a PhD in social anthropology at Hebrew University.
Personal interests?
Mordechai
is a wannabe mystic, shofar master and passionate storyteller
Lea is an avid feminist, compulsive list-maker and gospel music fan
Where did you go to yeshiva / university?
Mordechai:
Otniel/Tekoa, Hebrew University/Haifa University
Lea: Migdal Oz/ Hebrew University