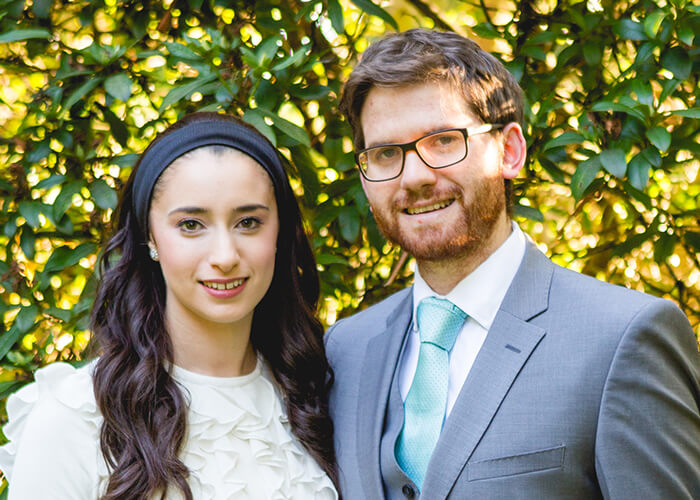 We are passionate about providing students with support, a home-away-from-home and a vibrant Jewish environment, facilitating the students' development of their own Jewish identity by providing opportunities to meet one another.


Yoseph and Rachael started working with students in the Brighton area in 2017. They both grew up in London, with Yoseph attending uni in Manchester and Rachael in Leeds and Sussex. Yoseph is currently a graduate student, which means they have a first-hand view of the support that students need on campus.
Why chaplaincy?
We are passionate about supporting students, giving them a home away from home and helping create a vibrant Jewish environment. We believe we have the experience, training and knowledge to contribute in a meaningful way.
Brighton and Sussex has a growing Jewish society in an extremely friendly and welcoming region with wonderful facilities and great people.
How can you help students?
We help students develop their own Jewish identity by providing opportunities for them to meet one another at Shabbat meals and other activities. We support the JSOC and organise activities and speakers related to social action and Jewish topics.
What do you enjoy doing most with students?
Yoseph: Friday night dinners with the students, winter BBQ, Shabbatons, attending JSOC events.
Rachael: Developing relationships with students through informal discussions about Jewish identity.
What do you want students to take away from their Jewish experience at uni?
Yoseph: That they felt part of the Jewish student community and had enriching social opportunities.
Rachael: A sense of belonging to the Jewish community.
Who or what has influenced your work?
Yoseph: The Manchester community was a great model of a welcoming communal environment.
Rachael: The Maximoffs in Leeds were wonderful role models for me in University.
What prepared you for this role?
Yoseph: Work as a Jewish youth leader in Manchester during my time at uni, madrich for Sinai youth group including Israel Tour and Jewish studies teacher at UCL.
Rachael: Work with Jewish youth organisations, involvement in Chaplaincy activities during University.
Personal interests?
Yoseph: Test cricket, history, academic Jewish studies, rock and roll between 1964 and 1990.
Rachael: Cooking, travelling, dancing.
Where did you go to yeshiva / university?
Yoseph: City of London School, KBY, Manchester and UCL
Rachael: Watford Grammar, Leeds, Sussex